4 Easy Ways to Light Up Your Listings
Home stagers show how lighting can improve a home's presentation for showings and online photos.
Key Takeaways
A home with dated lighting fixtures is a major turnoff to potential buyers, say 45% of 1,000 surveyed real estate pros.
Decorative lighting chandeliers and pendants in geometric shapes and in brass or gold metals are among the hottest design trends.
Home stagers advise using soft white lightbulbs and layering in lights—using overhead fixtures, lamps, and natural light—to achieve the most inviting light.
---
Lighting matters for making strong impressions. In a 2020 survey of 1,000 real estate professionals conducted by HomeLight, a real estate referral company, 45% of respondents said a home with outdated light fixtures can be a big turnoff to potential buyers. Decorative light fixtures—often referred to as the "jewelry" of home design—and natural light can instantly change the feel and look of a space.
Home stagers offer up four ways to help find the right light for your properties.
1. Swap out dated light fixtures. Decorative lighting that makes an artistic, sculptural statement is a growing trend in home design. Bell says popular fixtures for chandeliers or pendants include geometric or ball-clustered shapes, spiral chandeliers, and gridded honeycomb compositions. Many of these fixtures are in gold and brass metals to make them a room's focal point, says home stager Krisztina Bell, founder of No Vacancy Inc. and Virtually Staging Properties Inc. in Atlanta. "Builders, flippers, and investors are renovating and updating homes to impress potential buyers, and lighting is one of the features they're going all out on to really make a statement," Bell says.
2. Filter in natural light. Dated window treatments—like valances, drapes, and curtains—not only block natural light but also risk making your sellers' home look outdated, said nearly half of real estate pros in HomeLight's survey. "Let as much daylight into the room as possible," says Audra Slinkey, president and founder of Home Staging Resource, a training center for the staging industry. "Usually this is best done by removing dated window coverings and trimming back greenery on the outside."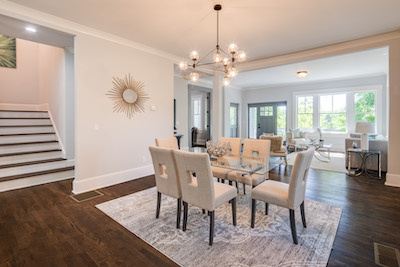 Overgrown shrubbery can also block light and any picturesque views. Bell says her team of stagers often recommends removing drapes and opening blinds—and pulling them all the way up—to expose windows. This creates "less distraction so buyers focus on seeing themselves living in a home, not observing the purple curtains or heavy traditional gold draperies left behind," Bell says. "Ensure the sun's rays are flooding into the property as much as possible."
3. Use softer bulbs. Swap out high-intensity lightbulbs for warm or soft white ones with a lower Kelvin rating, Slinkey suggests. "The best lightbulbs to purchase for lamps are LEDs with Kelvins at 2700 to 3500 tops," Slinkey says. "They give the most flattering light to a living space." Keep all the lightbulbs at the same wattage. "Consistency is key in good lighting, especially for taking photos of a staged home," Bell adds. "A mix of cool and warm tones can make it challenging for photographers to get that perfect shot."
4. Layer in the lights. Don't rely solely on overhead fixtures to light up spaces. "Stagers often will layer the lighting with at least two table lamps and possibly a floor lamp, depending on the size of the room," Slinkey says.
Using lamps for uplighting against a wall can make a room feel taller. Height and scale matter, too.
To layer lighting near a standard-sized sofa and side table, Slinkey suggests that the combined height of the table and lamp should be 58 to 66 inches. "In a room where people are moving around, it prevents them from having to look into the bulb from either a seated or standing position," Slinkey explains.
And lighting that sits too high can appear disconnected from the sofa or other adjacent seating.
Dimming can also help highlight certain room features. A dining room becomes more dramatic if there is lower light on the periphery and brighter light on the table, especially if the light is showing off crystal and silver on the table, says Al DeGenova, a longtime lighting industry marketing executive.
Bulbs and windows aren't the only light sources at your disposal—reflective objects such as mirrors can work, too. "Mirrors can be placed opposite a window, over a fireplace, or near a lamp to reflect the ambient light in the room and have a multiplying effect," Bell says. Plus, "oversized mirrors that lean against a wall can help a room appear larger."
---
See Getting the Right Light to better understand the variety of lightbulbs available today and how to chose the right ones for a home.